Welcome!
New Hope for Eastern Oregon Animals was incorporated in 2010 as a charitable non-profit organization to benefit animals in Eastern Oregon.
*******
CURRENTLY ACCEPTING DONATIONS FOR THIS YEAR'S ANNUAL RUMMAGE SALE. DONATE YOUR TAX GENTLY USED ITEMS, AND ALL PROCEEDS GO TO NEW HOPE FOR EASTERN OREGON ANIMALS! THE SALE IS MAY 17, 2014. ITEMS BEING ACCEPTED NOW,
PLEASE CALL 541-403-2710 TO ARRANGE DROP OFF OR PICK UP.
AVAILABLE FOR ADOPTION!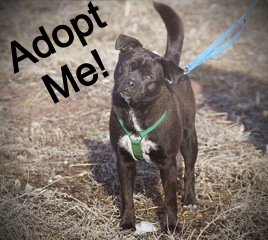 Karl is a year old, pug border collie mix.
He is sweet as can be, well-mannered and affectionate.
If you would like to meet Karl,
contact us and he will steal your heart!
Karl is ready for his forever home (3/2014)
************************************
Please click on the yellow 'donate' button on the side bar to make a donation.
Thank YOU for making a difference!
Check out all the amazing animals waiting for forever homes! You can click on the link below, or click "Adoptable Dogs" on our website.
New Hope For Eastern Oregon Animals -
P.O. BOX 146 Baker City, OR 97814 - (541) 403-2710